THE BEST CHEESESTEAKS & HOAGIES ON FRESH BAKED ROLLS IN HOLME CIRCLE, Rhawnhurst & MAYFAIR!
THE FRESH WORKS HOLME HAVE ALL YOUR FAVORITE MUNCHIES
CHEESESTEAKS, CHICKEN CHEESESTEAKS, HOAGIES, CHICKEN CUTLETS, GRINDERS, SALADS, WRAPS, WINGS, DESSERTS & SO MUCH MORE!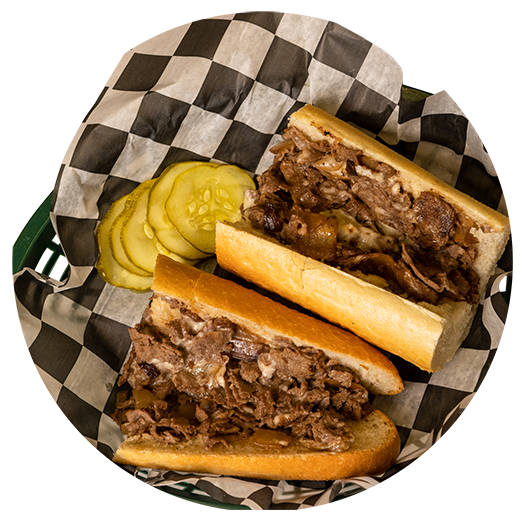 Come to The Fresh Works Holme Circle for best Cheesesteaks, Hoagies and Hot Wings in 19152, 19136, 19111, 19114, 19115, and 19149!
The Fresh works only uses the freshest ingredients for our delicious Cheesesteaks, chicken Cheesesteaks and Hoagies served on our baked in-house daily warm baguette rolls. That's The Fresh Works guarantee!
We are known for our cheesesteaks, chicken cheesesteaks, and hoagies but The Fresh Works Holme Circle has something for whatever you're craving—whether it's unique eats like the delectable Cheeseburger Hoagie, our unbelievably tender homemade Hot Roast Pork sandwiches, or our famous crispy Hot Wings!
Our Hot Wings come in 9 varieties of sauces from sweet to savory. Look out for our specialty wing sauces made by our staff. Our Honey Hot wings have become a customer favorite. The Fresh Works Holme Circle offer hot wings for food delivery in Holme Circle, Mayfair, Rhawnhurst, Pennypack, Holmesburg, Torresdale, and parts of Tacony and Oxford Circle, especially during football season- GO BIRDS!
We are proud to say that we make many of our own products in-house with our own recipes such as our homemade roast beef, homemade Roast Pork, Chicken Salad, and Burgers. We pride ourselves on delivering hot, fresh food every time. The Fresh Works prioritizes excellent service and fast-food deliveries. Our food is fresh and well made—it just works.
Step out of your comfort zone and try one of our specialty sandwiches. Prepare yourself for our Italian Grinder sandwiches with extra Provolone cheese. Our Cheesesteak Hoagie with house-made cheese sauce and Broccoli Rabe is a Philadelphia delicacy. Ever have a crab cake hoagie with a side our spicy fries. Fughettaboutit! Our chopped cheesesteaks and Buffalo chicken cheesesteaks have a cult following whether you're on team ranch or bleu cheese.
We have plenty of Vegetarian options as well including Grinders and fresh salads! We also have alternatives like Turkey Bacon, Turkey Burgers, Salads and Pierogies. And everyone loves French fries! We also make our French fries in so many styles- whiz, old bay, gravy, pizza, buffalo and garlic parm!
We offer a wide selection of sandwich trays and party platters for catering in 19152, 19136, 19111, 19114, 19115, and 19149!. Our baguette rolls are baked in-house and come fresh with every catering order. The Fresh Works Holme Circle freshly baked baguette rolls deliver every time, in or out of the store. Make your next event memorable with The Fresh Works Holme Circle!
Finish your meal right with a delicious homemade dessert from Dylilah's Sweet Sin'Sation such as red velvet cake, carrot cake, strawberry shortcake, double strawberry cake, chocolate cake and double chocolate cake. We also offer Philadelphia Water Ice Factory and over 20 varieties of Blue Bunny ice cream bars such as Bunny Track, Chocolate Éclair Bars, Cookies and Cream Cones, M&M Cones, Twix Big Bar and Snickers. Pint Cone to name a few. Check out our menu for more options. 
THE Fresh WORKS IS FOR EVERYONE
Our menu has something for everyone. We only use the freshest and local ingredients to satisfy all your cravings!